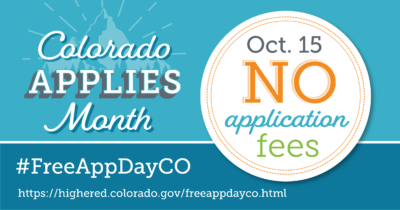 Students must submit a completed admissions application between 12:01 a.m. and 11:59 p.m. on October 15, 2019 only. Any admissions applications that have been started but not submitted may not be granted a waiver.
How to Prepare for Free Application Day
To take full advantage of the free application day, it's best to have all admissions materials prepared, doubled checked and reviewed before October 15.
Preparation will improve your chances of submitting a high-quality, complete application and thus, improve chances of acceptance.
Colorado Free Application Day Instructions
Visit FreeAppDayCO for full instructions and to find the instructions for Public Four-Year Colleges and Universities.
If you are wishing to attend a two-year community or technical or private college?
Some provide  free application options year round, but you can view the full list of options at Public Two-year Community and Technical Colleges section and the Participating Private Colleges and Universities section.
Have questions or need assistance?  Contact Chad Thieman.
Departments: Counselor's Corner